Matt (www.sparckmoto.com)and i worked to make these the best and easiest mosfet upgrade possible
they are plug and play to your stock harness, the bolt holes in the heat sink will even bolt back up in the stock location if you want
so no wiring no guessing and they even come with new heavy duty connectors and terminals for the harness end in case yours are cracked sunburnt or melted
Voltage regulation set at 14.4V and safe for use with LI-ION batteries
the regulator rectifiers are 400 amp continuous and 600 amp intermittent.
so well over double of the stock ones
this way if you want to install a 250 300 or 350 watt heavy duty goldwing stator to keep your self nice and warm or run a 2000 watt stereo amp maybe light up a hughway go to it, but remember you will need to uprate your main fuse to match the output of your bigger stator
these will work with all battery types and are warrantied for 1 year
so plug play and go riding!
They're 400 Watt continuous and 600 Watt peak (not amp).
PLEASE SELECT YOUR MODEL FROM THE DROPDOWN BOX TO GET THE CORRECT CONNECTORS FOR YOUR BIKE. Not sure which one is going to fit? The CX500 reg/rec model has these connectors: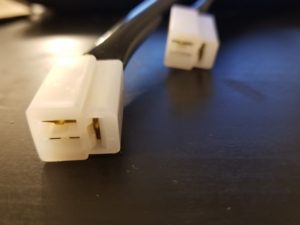 GL500: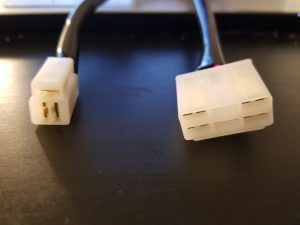 For the extension cables separately see this product.
Note that this is not the same shape as the CX650C reg/rec but it does work as it should, and with an extension can be relocated elsewhere while you retain the original for looks.